September 19, 2004
Lost River Indeed
Intersection of Durham Road and Route 611 in Riegelsville. The Delaware Canal, which runs adjacent to the Delaware River, also runs adjacent to the road here. The river came up over its banks, ran into the canal, and up onto the road.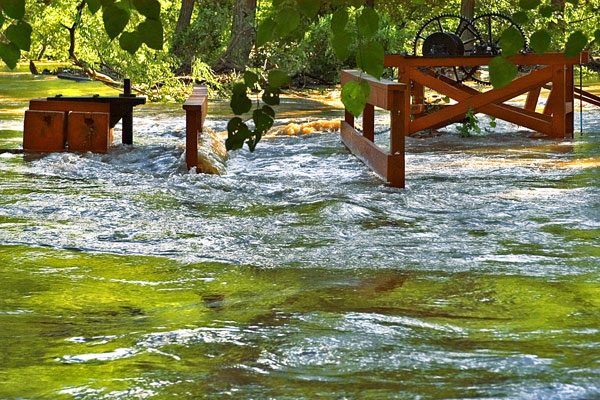 Cornfield
This cornfield is next to the Riegelsville Boro Park, in which a centennial celebration for the Riegelsville Roebling Bridge (two of my photos of the bridge are here) was to take place on 9/18, the day of the hurricane. The park was underwater (and the bridge nearly went under, too).
Snapped Utility Pole
Home Along the Delaware River in Riegelsville
Ironically, the generous person who spent a full year organizing the Riegelsville Roebling Bridge Centennial Celebration lives in this house. I understand her barn and outbuildings were damaged but the river didn't reach her house.
The Riegelsville Roebling Bridge Just After the Crest - Approximately 32 feet Above Normal
Click here to compare river levels with a normal day in July.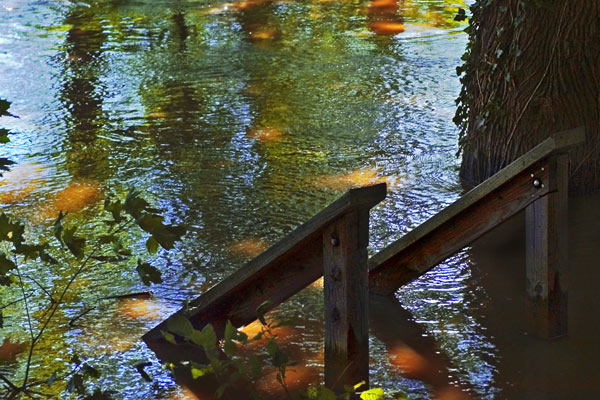 Stairway to ?
Another View of Manfred's Hickory Tree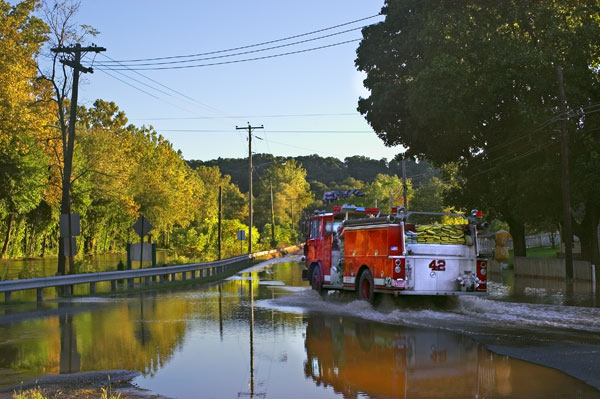 Firetruck on Route 611
At this location, Route 611 is also called River Road, which takes on a new meaning in this photo.
It was a gorgeous day -- if you didn't know what happened yesterday, you never would've guessed by looking at the sky. The irony is that this was the worst day for most residents who live on or near the river in Bucks County. It took the Delaware River 24 hours to "crest" or reach its peak, and did so about 4:00 p.m. this day.
More than 1600 homes and businesses along the river were destroyed, and Bucks County was declared a Federal Disaster Area. Click here to read a news article about that situation.